Prof Robert Bryson-Richardson
robert.bryson-richardson@monash.edu Google Scholar
Rob studied Human Genetics at the University of Nottingham before moving to the Medical Research Council's Human Genetics Unit in Edinburgh to complete his PhD and begin his work using the zebrafish model system. He completed his PhD in 2003 and continued his research at the Victor Chang Cardiac Research Institute in Sydney and the Australian Regenerative Medicine Institute at Monash University. He joined the School of Biological Sciences at Monash University in 2010. His focus is on clinically translatable findings to inform the diagnosis and treatment of neuromuscular diseases.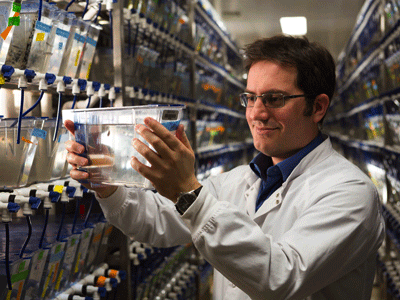 Emily McKaige
emily.mckaige@monash.edu Google Scholar
Emily completed a Bachelor of Science with Honours, majoring in genetics and molecular biology, at Monash University in 2016. Her honours research project was focused on characterising a novel candidate gene for heritable peripheral neuropathy. Following graduation, she was employed as a research assistant in the Bryson-Richardson lab, investigating the role of autophagy in the pathogenesis of myofibrillar myopathy and testing potential drug treatments for nemaline myopathy. Emily began her PhD at Monash University in 2019, and is studying the mechanisms of muscle development and disease.
Dashika Palipana
Dashika completed her Bachelor of science degree in 2015 at Kazan (Volga region) Federal University, Russia, with a major in Genetics. She received her Master's degree from Lomonosov Moscow State University in 2017, where she studied human population genetics focusing on native Sri Lankan population. She joined the Bryson-Richardson lab in 2019 as a PhD student. Her project is aimed at identifying novel myopathy genes. When not in the lab, Dashika enjoys travelling, watching TV series and reading.
CJ Bayly-Jones
Coco completed his Bachelor of Science majoring in Genetics and Developmental Biology at Monash University in 2017. In 2018, he completed his honours year in genetics with the Bryson-Richardson lab where he focused on the potential therapies for myofibrillar myopathy. CJ started his PhD in 2019 and has continued her research exploring approaches to treat myofibrillar myopathy. He is also interested in cardiomyopathy associated with myofibrillar myopathy. In his free time, he likes to keep active by playing AFL and skiing, and loves relaxing with a cup of tea and a good book.
Dr Lee Miles
lee.miles@monash.edu Google Scholar
Lee studied Genetics at University Otago, completing his Honours in 2005 on Xenopus development, before moving to Monash University in 2008 to begin his PhD working with the zebrafish model system. Lee completed his PhD in 2015, and subsequently generated models for muscle development at the Australian Regenerative Medicine Institute at Monash University, and invesstigated epithelial development and disease modelling at the Alfred Hospital, Monash University, and La Trobe University. In 2018, Lee joined the Bryson-Richardson lab in the School of Biological Sciences to work on applying the latest advances in genome editing approaches to investigate muscle development and determining the genetic causes of disease. 
Clara Lee
clara.lee@monash.edu Google Scholar
Clara studied biochemistry, medical microbiology, and genetics at University of Tasmania as part of her Bachelor of Biotechnology degree (2008-2010). She developed her interest in medical research since she completed a third year project on investigating the role of TDP43 protein in ALS mouse models. She began her career as a technical officer in the Neurodegenerative Disease and Trauma group in the Menzies Institute for Medical Research. She has since worked in numerous multidisciplinary lab groups worldwide including University of Hong Kong and University of Melbourne (The Florey Institute of Neuroscience and Mental Health). Clara recently joined the Bryson-Richardson lab in 2018 as Lab Manager, overseeing the day-to-day running of our lab and investigating muscle development and disease. Clara enjoys travelling, exploring new restaurants and dad puns.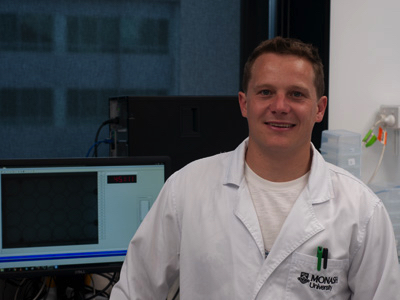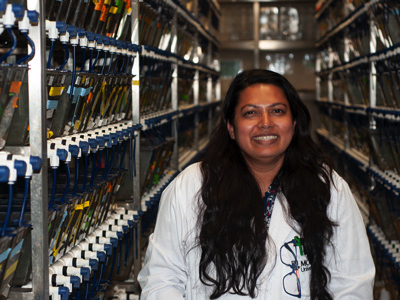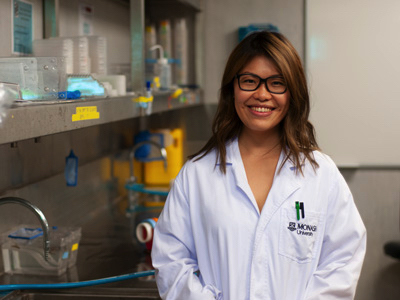 Dr Rita Serrano
Rita is a biologist interested in the connection between developmental genetics and medicine. She studied Biology at the University of Porto in Portugal (2005-2008), and started her career as a research trainee in the field of Population Genetics at IPATIMUP (Portugal, 2009-2010). Extending her curiosity for genetics research, she moved to Lisbon to complete the Masters of Molecular Genetics and Biomedicine at the New University of Lisbon (2011-2014), in collaboration with the Institute of Molecular Medicine (Portugal). Her project focused on the mechanism of tissue regeneration in the zebrafish. Rita joined the Bryson-Richardson lab in 2015 as a PhD student and graduated in 2019. She is currently characterizing new genes that have been associated with neuromuscular disease, aiming to understand the underlying biology and discover targetable pathways for potential therapies.
Outside of Science, Rita spends her time reading, learning new languages, doing yoga and (because she loves chocolate) enjoying a treat.